This list relates to the trimester Trimester 1 2019 which ended on 29/06/2019
This list has been archived
Week 1 Immigration and the Politics of Identity

6 items

These are some short autobiographical readings to get you thinking about migration and identity. Please read the Amin Maalouf extract, and then choose at least two of Options 1-4, based on your interests. Please do these readings by the time of our Thursday class. They are also relevant for Week 2's discussions.

Week 2 Immigration and theories of identity

4 items

Read Sen's chapter first, then Waters and Baldwin. As I note elsewhere, for the Waters reading it is the first six or so pages that are most important, but I do recommend that you read the rest of the chapter as it provides important empirical and contextual information about the immigrant group that motivates her broader argument. The Baldwin piece addresses identity in the US, but from the perspective of his location in Europe. Thus it raises interesting questions about the changing perceptions of identity, depending on location.

Black identities : West Indian immigrant dreams and American realities / Mary C. Waters. - Waters, Mary c. 1999

Book Required I have assigned pages 44-89 ( most of Chapter 3). The first 6-8 pages are the most important, so make sure you get through these. I recommend, though, that you read the rest of the chapter as it outlines the interesting empirical case that is at the heart of Waters' study. This puts the early pages of the chapter into context.

Notes of a native son - James Baldwin 1964

Book Required If there is any problem with this link, another version is available online at: https://genius.com/James-baldwin-stranger-in-the-village-annotated (however, you need to ignore the annotations). You may also like to read Teju Cole's 2014 article in The New Yorker that revisits Baldwin's "Stranger in the Village" decades later. You can access it at: https://www.newyorker.com/books/page-turner/black-body-re-reading-james-baldwins-stranger-village

Chapter 6: In the eye of the beholder - Natalie Masuoka

Chapter Supplementary This book chapter analyses the ways in which voters perceive Barack Obama - as black or mixed-race, and how the identity they assign to him affects their view of him.

Week 3 Migration and National Identity

10 items

The three Required readings are: Kwame Anthony Appiah ('Country'); Catherine Dauvergne ('Settler societies...'); and Harald Bauder ('Closing the immigration-Aboriginal parallax gap'). See also 2 Recommended readings: Anthony Smith; Montserrat Guibernau.

Nationalism: theory, ideology, history - Anthony D. Smith 20100745651275,0745651283,9780745651279,9780745651286

Book Recommended You may find pages 5-23 on concepts and definitions related to the nation and nationalism useful to read if you have not studied nations and nationalism before. I will cover some of this material in the Week 3 lecture.

The Identity of Nations - M. Montserrat Guibernau i Berdún 20070745626629,0745626637,9780745626628,9780745626635

Book Recommended This reading provides a helpful 5-pronged definition of national identity, which I will refer to in the Week 3 lecture, and also discusses the respective role of elites and masses in the construction of national identity.

National identity and diversity - Fiona Barker0195585259,9780195585254

Chapter Supplementary A brief overview chapter I wrote about national identity in NZ, especially in the context of diversity.

Week 4 State approaches to immigrant integration #1

8 items

This week we turn to look at the kinds of policies governments adopt to shape how migrants adapt to the society. First, please read the three short definitional readings on Assimilation, Integration and Multiculturalism from Key Concepts in Migration to familiarise yourself with the way the migration literature uses these concepts. In class we will talk about not just about the kinds of policy approaches there are, but also about the debates in the literature about whether there are clear 'national models' of integration, as well as why these might have developed. Castles, de Haas and Miller offer a comparative overview of several different policy models, while Bertossi's article contests the idea that there are clear and coherent national models of integration. For the Thursday class, please have a read of the Seol and Skrentny article, which will inform the session with our guest speaker, Stephen Epstein, and also links back nicely to discusses of different types of nationalism that we have just discussed in Week 3.

Key Concepts in Migration - David Bartram, , Maritsa Poros, , and Pierre Monforte 2014

Book Required This reading has very short chapters explaining key terms about migration. Please read Chapter 5: Assimilation, Chapter 23: Integration, and Chapter 28: Multiculturalism.

Chapter 12: New ethnic minorities and society - Stephen Castles, Hein de Haas, Mark Miller1462513115,0230355773,0230355765,9781462513116,9780230355774,9780230355767

Chapter Required Skim read this chapter, focusing on pages 264-282, then 292-295. Read the detail boxes for country cases that interest you.

Week 5 State approaches to immigrant integration #2

9 items

Having introduced some concepts regarding integration, multiculturalism etc and the question of 'national models' last week, this week we will look at one type of policy development in some liberal democracies - 'civic integration'. Civic integration often emerged in reaction to what politicians claim is a failure of earlier policies (e.g. multiculturalism) and it entails imposing certain requirements regarding immigrants' integration. Joppke's recent article raises three debates about civic integration, but in doing so also reviews practices in different countries. Triadafilopoulos assesses civic integration through the lens of political theory, asking whether contemporary policies are illiberal. (Don't worry if you don't fully grasp all the nuances of the different liberalisms he discusses, but read it for his overall points about liberal vs illiberal approaches to integration.) Kenan Malik's article in Foreign Affairs magazine critiques the practice of both multiculturalism and assimilation in the past and makes some suggestions. This brings us back to the question of multiculturalism and will inform some of our discussion about policy making choies regarding integration and accommodation of difference.

Week 6 Identity choice and the State

15 items

The reading assignments are a little different for Week 6, when we study how State categorisations both reflect and shape citizens' and newcomers' identity choices. Our readings all focus on the census as an example of State shaping of identity. Your reading assignment is as follows: 1. First, read the TWO short newspaper pieces (from the LA Times and The Guardian) on changes to the US Census for 2020. 2. Then, read ONE of the country case study articles that are listed under the remaining Required readings, each of which is listed as Option 1, 2 etc. through to Option 10. (Note that Option 5 is an ebook that includes a few different listed case studies, of which you just read one.) Just select the case study article based on your geographical/regional interests :-) We will do a collaborative exercise in class on Tuesday, so you should come prepared to contribute knowledge from the country case study you chose to read! As you read, think about and make notes for yourself on the following - (i) what are the main categories/dimensions of identity that appear on the country's census? Are there peculiarities about how (ethnic/racial/religious/linguistic) identity is organised in this country's census? (ii) What seem to be some historical, social or institutional factors that shape the configuration of identities that are recognised on the census? (iii) What are some key areas of political contestation about the census identity categorisations in this country? What are some political, social or economic implications arising out of how identity is categorised? (Each article has a different focus, so adapt the questions as appropriate for the article you chose.) Happy reading!

Social Statistics and Ethnic Diversity

Book Required Option 5 for Required Reading - read the case study chapter on ONE of the following countries: FRANCE (Simon), BRAZIL (Petruccelli), MALAYSIA (Nagaraj et al), MEXICO (Barbary).

Week 7 Migration and social membership

8 items

Welfare states rely for their functioning on some sense of solidarity in society and on people's willingness to pay their taxes. Some people claim that this solidarity rests on a common national identity and that these sources of solidarity are challenged by immigration and under conditions of growing diversity. Does social solidarity really rely on a strong national identity? Does the diversity arising from immigration seem to challenge national welfare states? If so, what political challenges present themselves and what might the solutions be? The TWO required readings discuss this topic from the perspective of political theory and set forward a range of propositions about the relationship between diversity and the welfare state. Kymlicka's sole-authored article (which has some overlaps with the Banting/Kymlicka piece) focuses on the question of whether there is a "progressive's dilemma" for those who would support both immigration and a strong redistributive welfare state. The Banting/Kymlicka chapter has some political theory-heavy sections, but don't be put off! It's worth the effort to fully understand it and also to formulate your own views about what are often normative questions (e.g. about what the bases of national identity and solidarity should be). NB. You need only read pages 1-34 of the Banting/Kymlicka chapter.

Week 8 Migrant identities between 'home' and 'host'

6 items

This week's reading address what is broadly known as 'transnational citizenship' or 'transnational politics'; i.e. political identities and action that transcend the traditional notion of citizens participating in the political life of a single territorial nation-state. Since every immigrant is also an emigrant, it stands to reason that migrants' political interests, identities and engagement might relate to both 'home' and 'host' societies. The first reading (Levitt and de la Dehesa) is a classic that considers transnational politics from the top-down perspective of the state, while the second reading (Harpaz) considers the specific topic of dual citizenship and does so from more of a bottom-up perspective. The Recommended reading on Australia (Fozdar) also takes a bottom-up approach, considering migrants' perspectives on their citizenship(s). This reading offers very helpful context for the Week 8 guest lecture (Thursday) by Pavithra Jayawardena, who will talk about understandings of citizenship and identity toward 'home' and 'host' of Sri Lankan migrants.

Week 9 'Non-migrant' identities: populism and responses to migration and diversity

4 items

There has been a lot of discussion in the media in recent years about the 'white working class', the 'new minority'. This week we will return to discussions from earlier in the course about the 'white identity' and consider it in the context of the explanations of the rise of populism and the radical right in electoral politics. The reading assignment this week consists of one scholarly journal article, one essay by Kenan Malik (who we read earlier in the course) about the history of white identity, and two op-ed pieces by Justin Gest, who has researched the 'white working class'. The op-eds are not long, but they treat similar themes (albeit addressed to different audiences - UK versus US), so if you only have time to read one that's fine.

Week 10 Immigrants as political actors

7 items

During Weeks 10 and 11 we are examine the role of migrant-origin citizens in electoral politics. Is growing ethnic diversity reflected in parliaments? Do those of recent immigrant origin vote differently to longstanding citizens? Normatively, should we aspire to 'mirror' representation (i.e. where the composition of the legislature broadly matches that of society) and, if so, along which dimensions of identity? We will read a few empirical case studies of migrant voting and representation patterns, as well as considering normative questions about who should represent whom.

Week 11 Diversity, identity and political representation

5 items

During Weeks 10 and 11 we are examine the role of migrant-origin citizens in electoral politics. Is growing ethnic diversity reflected in parliaments? Do those of recent immigrant origin vote differently to longstanding citizens? Normatively, should we aspire to 'mirror' representation (i.e. where the composition of the legislature broadly matches that of society) and, if so, along which dimensions of identity? We will read a few empirical case studies of migrant voting and representation patterns, as well as considering normative questions about who should represent whom.

Additional readings on indigeneity and migration

6 items

How should we think about immigration and integration in settler colonial societies? What intersections are there, or should there be between the politics of indigeneity and the politics of migration? This is an under-researched, but important, question for us to consider. We have one reading on Aotearoa New Zealand and two readings on Canada (one a short editorial, the second a longer account of a roundtable discussion that responds to the first short reading).

Creative Commons Attribution-ShareAlike 3.0 Licence
Profile Required
Reading intentions and notes are stored against your user profile. Please create a profile to use this feature.
My notes
You must be logged in to add a note
What are item notes?
You can use item notes to make personal notes on any of your reading items. Notes are private to you and will not be shown to other users.
You can review your item notes from the list, the item page or from your profile page.
---
How do I create an item note?
To make notes, first you must be logged in. Once logged in, simply click Add note? next to the list item you wish to make notes on. You can also make notes at the bottom of every item's detail page.
Your note will be saved automatically as you type.
Have you read this?
You must be logged in to set a reading intention
What are reading intentions?
Setting up reading intentions help you organise your course reading. It makes it easy to scan through your lists and keep track of progress. Here's an example of what they look like: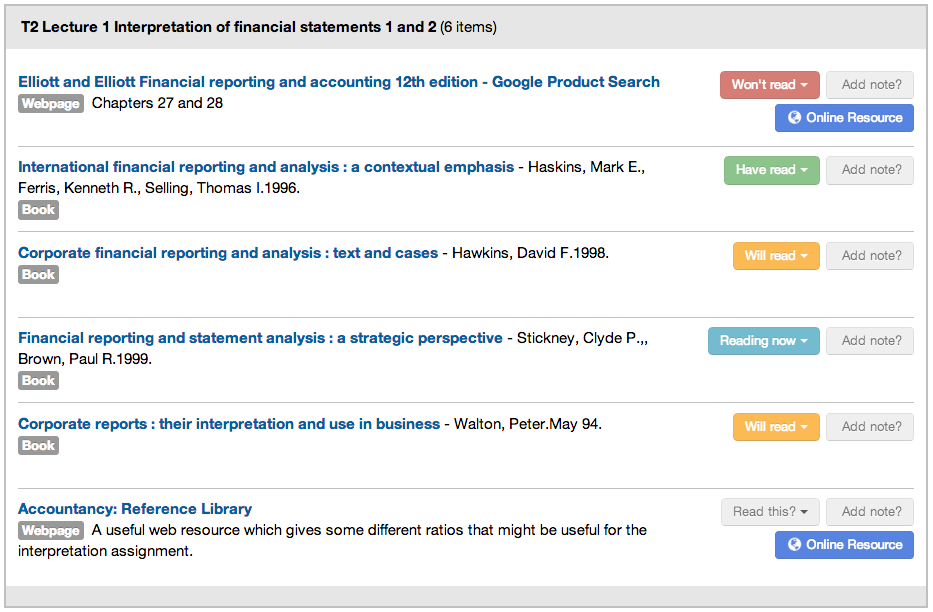 Your reading intentions are also stored in your profile for future reference.
---
How do I set a reading intention
To set a reading intention, first you must be logged in. Once logged in, click Read this? next to the list item you wish to set a reading intention for.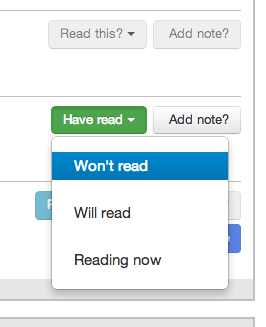 You can also set the reading intention from every item's detail page.