FCOM111 - Government, Law and Business
Trimester 2 2019
This course sets the context for the BCom degree acquainting students with the legal and governmental environment that New Zealand firms operate in.
Background Reading

1 item

These readings will provide historical and contextual material essential for this course.

Week One Readings

8 items

The Craft of Research - Wayne C. Booth, , Gregory G. Colomb, , Joseph M. Williams, , Joseph Bizup, , and William T. Fitzgerald 2016

Book Supplementary A complement to the critical thinking lecture

Week Two Readings

12 items

The End of History? - Francis Fukuyama 1989

Article Supplementary Supplementary reading for lecture on Institutions - Fukuyama's original article where he proclaims 'the end of history' following the end of the Cold War.

Covenants with and without a Sword: Self-Governance Is Possible - Elinor Ostrom, James Walker, Roy Gardner 06/1992

Article Supplementary Supporting reading for lecture material on self-governance. The main message can be found in the abstract, introduction, and conclusion - you don't need to get bogged down in the methods if you don't want to.

Week Three Readings

8 items

The 9th Floor:The Reformer - Geoffrey Palmer 2017

Audio document Supplementary This Radio New Zealand podcast series from 2017 interviews a number of former Prime Ministers. Each is worth a listen in its own right, but this interview provides useful background on the shift to an MMP electoral system, and Palmer's concerns about the absence of constitutional roadblocks in New Zealand's system of government. May be of particular use to those less familiar with New Zealand's recent political history.

Week Four Readings

12 items

Taming Leviathan 20110319

Article Supplementary This provides further context for the discussion on the role of government in a market economy and offers support for the argument in favour of less government.

The Negotiator - Jim Bolger | RNZ

Webpage Supplementary Interview with former PM Jim Bolger reflecting on his time in office. Part of a series of interviews with all of NZ's living former PMs.

What Is Governance? - Francis Fukuyama 07/2013

Article Supplementary Supplementary reading on good governance

Institute for New Economic Thinking

Audio-visual document Supplementary This video series raises one of the big philosophical and ethical questions of our time: Is there something wrong with a world in which everything is for sale? Should we pay children to read books or to get good grades? Should we allow corporations to pay for the right to pollute the atmosphere? Is it ethical to pay people to test risky new drugs or to donate their organs? What about hiring mercenaries to fight our wars? Auctioning admission to elite universities? Selling citizenship to immigrants willing to pay? What do you think?!

Week Five: Readings

1 item

Week Six Readings

0 items

Week Seven Readings

4 items

Week Eight Readings

2 items

Week Nine Readings

6 items

Week Ten Readings

3 items

Case Study: Income Inequality

3 items

Case Study: Climate Change

5 items

Case Study: Wellbeing Economics

3 items

Case Study : Globalisation

2 items

Creative Commons Attribution-ShareAlike 3.0 Licence
Profile Required
Reading intentions and notes are stored against your user profile. Please create a profile to use this feature.
My notes
You must be logged in to add a note
What are item notes?
You can use item notes to make personal notes on any of your reading items. Notes are private to you and will not be shown to other users.
You can review your item notes from the list, the item page or from your profile page.
---
How do I create an item note?
To make notes, first you must be logged in. Once logged in, simply click Add note? next to the list item you wish to make notes on. You can also make notes at the bottom of every item's detail page.
Your note will be saved automatically as you type.
Have you read this?
You must be logged in to set a reading intention
What are reading intentions?
Setting up reading intentions help you organise your course reading. It makes it easy to scan through your lists and keep track of progress. Here's an example of what they look like: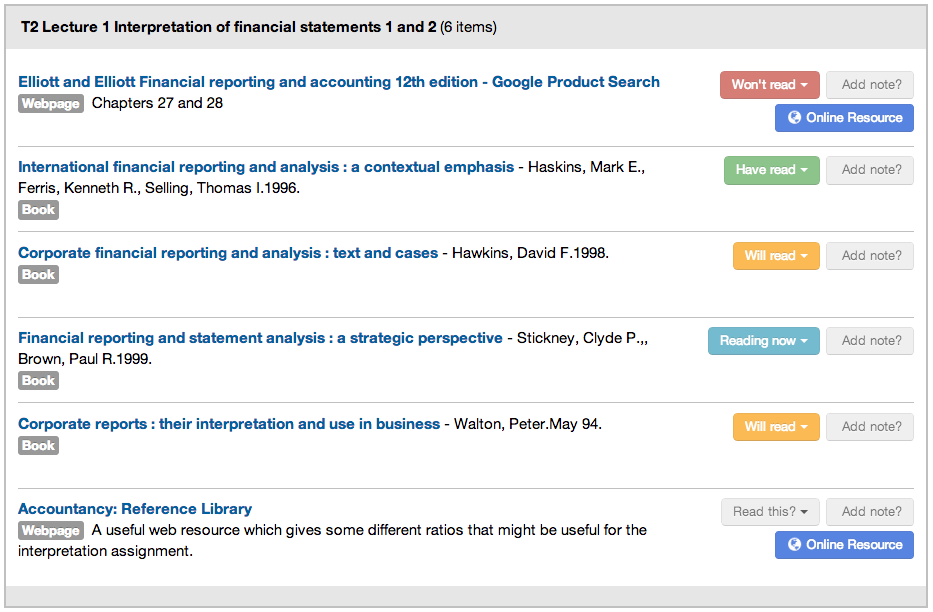 Your reading intentions are also stored in your profile for future reference.
---
How do I set a reading intention
To set a reading intention, first you must be logged in. Once logged in, click Read this? next to the list item you wish to set a reading intention for.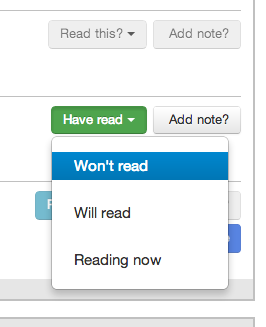 You can also set the reading intention from every item's detail page.