GOVT 501 PPMP
Trimester 1 + 2 2019
This course examines the nature of government and governing, including its philosophical, ethical and practical foundations and the institutions and processes the make up a polity. Consideration is given to constitutional arrangements and conventions, including the roles of the legislature, executive and judiciary, sub-national government and non-state actors; the significance and policy implications of the Treaty of Waitangi/Te Tiriti o Waitangi; and recent trends in public sector management in various jurisdictions.
Module 1: Governing New Zealand

25 items

Cabinet Manual - Department of Prime Minister and Cabinet (DPMC) 2017

Book

Module 2 - Public Management in New Zealand

19 items

Public value: theory and practice - John Benington, Mark H. Moore 2011

Book Required E-book - Please read especially Chapter 2 - From Private Choice to Public Value?

The Oxford handbook of public management / edited by Ewan Ferlie, Laurence E. Lynn, Jr., Christopher Pollitt. - Ferlie, Ewan, 1956- 2007

Book Recommended E-book, recommended to read Chapters 1, 2, 3, 4 - especially chapters 3 and 4 on Bureaucracy and Public and Private Management compared. Further very useful chapters are 'Public Private Partnerships and Hybridity' by Chris Skelcher, 'Organizational Cultures in the Public Services' by Robert Dingwall and Tim Strangelman and 'Performance Management' by Colin Talbot.

The New Public Governance? - Stephen P. Osborne 2010-1-21

Book Recommended Chapter 1 provides an overview of the evolving public management paradigm

Module 3 - The Treaty of Waitangi

10 items

Treaty of Waitangi settlements - New Zealand Law Foundation 2015, ©2015

Book Required This collection gives good brief outlines of aspects of the modern settlement processes. See in particular: - Wheen, Nicola R. & Hayward, Janine 'The meaning of Treaty settlements and the evolution of the Treaty settlement process', pp.13-25 - Chen, Mai, `Post-settlement implications for Maori-Crown Relations', pp. 82-200 - Bargh, Maria, `The Post-settlement World (So Far): Impacts for Maori', pp. 166-181

Module 4: Building Blocks of Good Governance

24 items

Part 1: Integrity Issues in NZ

8 items

Part 2: Accountability Issues in NZ

6 items

Part 3: Transparency Issues in NZ

10 items

Module 5 Digital Government

17 items

Creative Commons Attribution-ShareAlike 3.0 Licence
Profile Required
Reading intentions and notes are stored against your user profile. Please create a profile to use this feature.
My notes
You must be logged in to add a note
What are item notes?
You can use item notes to make personal notes on any of your reading items. Notes are private to you and will not be shown to other users.
You can review your item notes from the list, the item page or from your profile page.
---
How do I create an item note?
To make notes, first you must be logged in. Once logged in, simply click Add note? next to the list item you wish to make notes on. You can also make notes at the bottom of every item's detail page.
Your note will be saved automatically as you type.
Have you read this?
You must be logged in to set a reading intention
What are reading intentions?
Setting up reading intentions help you organise your course reading. It makes it easy to scan through your lists and keep track of progress. Here's an example of what they look like: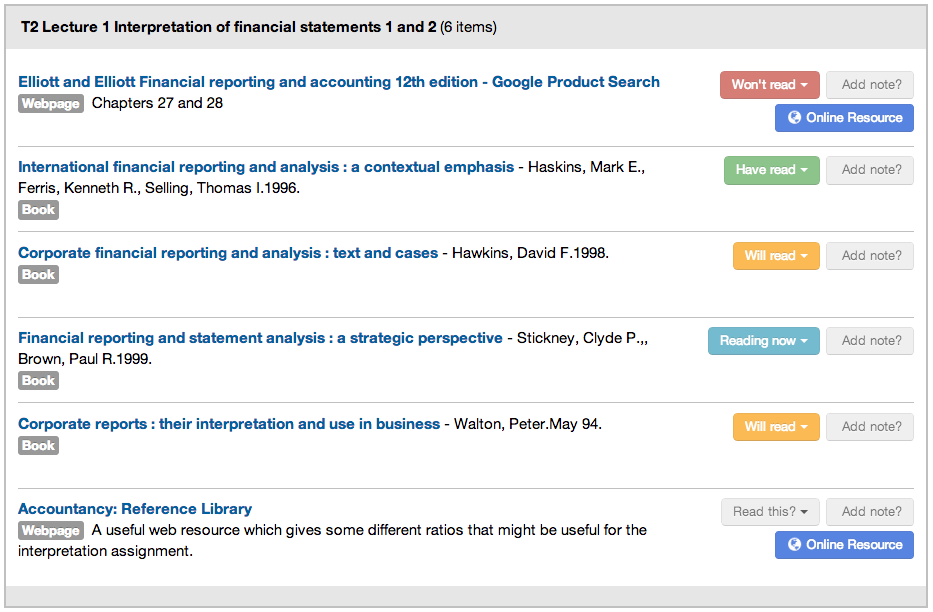 Your reading intentions are also stored in your profile for future reference.
---
How do I set a reading intention
To set a reading intention, first you must be logged in. Once logged in, click Read this? next to the list item you wish to set a reading intention for.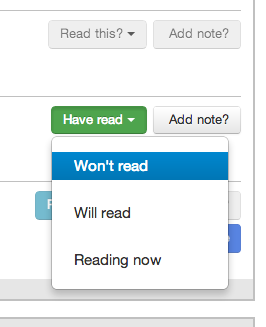 You can also set the reading intention from every item's detail page.