HIST423
Trimester 1 + 2 2019
Readings for HIST423 - Digital History, 2019
Seminar 2 - We are all, already, digital historians

3 items

Trimester 1, Week 3 (18 March)

I'd Rather be a Librarian - Andrew Prescott 09/2014

Article Required Read the Tim Hitchcock article first - this is a response to it.

Seminar 3 - Digital representations of history in the GLAM section (Galleries, Libraries and Museums); and XML mark up (TEI)

6 items

Trimester 1, week 5 (1 April)

Seminar 4 - Visualising Time, and Databases (workshop)

4 items

Trimester 1, Week 6

Pasts in a Digital Age - Stefan Tanaka

Chapter Required Illustrates how digital history can unveil and celebrate different sociotemporal forms of organisation worldwide.

Just in Time: Defining Historical Chronographics - Stephen Boyd Davis, Emma Bevan, Aleksei Kudikov

Chapter Required Charts the history of chronology and chronography as well as a discussion of various attempts at visualising time in digital media.

Also see Course Materials > Seminar Workshop Materials > Week 4 on Blackboard for a pre-workshop introduction I've prepared.

It covers some database basics, including what is a database, why would we use one, how to sample, good data entry practices, data checking, and data cleaning. The second part is some basic statistical analysis stuff. Ben and Maggie, we covered a lot of this in HIST317, so it should be familiar.

I've included this as a 'reading' rather than cover it in class because some of it will be very elementary for some of you, and for others it will be a good refresher, and for some of you it might be all new. If we were to run through all of this in class it could easily take the full 2 hours. Note any questions you have from it, or anything that isn't clear, and we can go over these points in class instead of going though it all.

Seminar 5 - Open Access and Open Scholarship, and Databases (workshop)

4 items

Trimester 1, Week 7

The moral economy of open access - Jana Bacevic, Chris Muellerleile 05/2018

Article Required Provides a 'critical self-reflection' on open access more generally by looking at the moral politics involved in academic publishing in the digital age.

Assumptions and Challenges of Open Scholarship - Veletsianos, George October 2012

Article Required An overview of the open scholarship movement, looking at the general values and motivations which the movement is founded on and how these have been influenced by digital technologies.

Worksheet to come for the database component. It will be in Course Materials > Seminar Workshop when available, Easter/ANZAC week sometime. Email forthcoming, probably over the Easter weekend, with instructions for downloading some software for this workshop too.

Seminar 6 - Scholarly Blogging/Vlogging/Podcasts

5 items

Trimester 1, Week 8

Seminar 7 - Gaming, historical apps, etc

3 items

Seminar 8 - Accessibility

3 items

Web Accessibility - Peter Brophy, Jenny Craven 2007

Article Required If printing this, mind to download the pdf first and print that. Printing it directly may cause some words to be cut off from the right side.

Seminar 9 - Crowdsourcing

3 items

Chapter 1: Concepts, Theories, and Cases of Crowdsourcing - Daren Brabham

Chapter Required Hopefully this link will take you to the e-book on Proquest. They have an unhelpful limit on there of only being able to download 17 pages at a time, so it won't let me link to a pdf of the chapter. This is a long chapter (40 pages) but provides useful background, a broad scope, explaining crowdsourcing in general, and detailing various theoretical approaches necessary to understanding what it is and what it is not.

Week 10 - Visualising Spatial History

3 items

Mapping a Slave Revolt - Vincent Brown 12/2015

Article Required Provides a useful discussion of some of the challenges encountered by scholars seeking to produce visualisations of spatial history. Discussion of the partiality of archives, and subsequent tendency for scholars to reify dominant narratives and understandings of space and place, is particularly valuable. Worth having a look at the map in question, in order to better understand some detail Brown discusses: http://revolt.axismaps.com/map/

Week 11 - Copyright

6 items

5 August. Yes, there are 6 readings for this week. But they are mostly really short, so fret not.

Digital NZ public domain guide

Webpage Required The guide itself is available on this webpage as a Word doc and a PDF. Please ensure you read this as well as the webpage.

Creative Commons Attribution-ShareAlike 3.0 Licence
Profile Required
Reading intentions and notes are stored against your user profile. Please create a profile to use this feature.
My notes
You must be logged in to add a note
What are item notes?
You can use item notes to make personal notes on any of your reading items. Notes are private to you and will not be shown to other users.
You can review your item notes from the list, the item page or from your profile page.
---
How do I create an item note?
To make notes, first you must be logged in. Once logged in, simply click Add note? next to the list item you wish to make notes on. You can also make notes at the bottom of every item's detail page.
Your note will be saved automatically as you type.
Have you read this?
You must be logged in to set a reading intention
What are reading intentions?
Setting up reading intentions help you organise your course reading. It makes it easy to scan through your lists and keep track of progress. Here's an example of what they look like: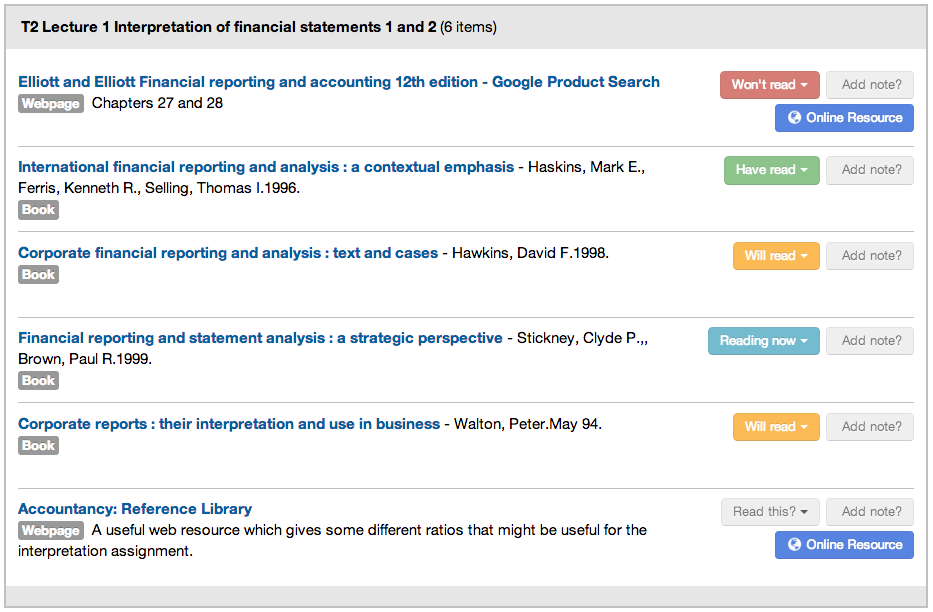 Your reading intentions are also stored in your profile for future reference.
---
How do I set a reading intention
To set a reading intention, first you must be logged in. Once logged in, click Read this? next to the list item you wish to set a reading intention for.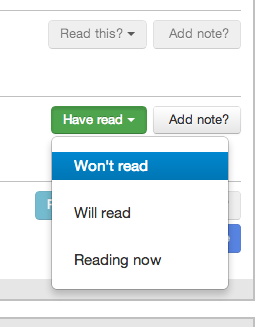 You can also set the reading intention from every item's detail page.